New England Overland Rally at
Thompson Speedway Motorsports Park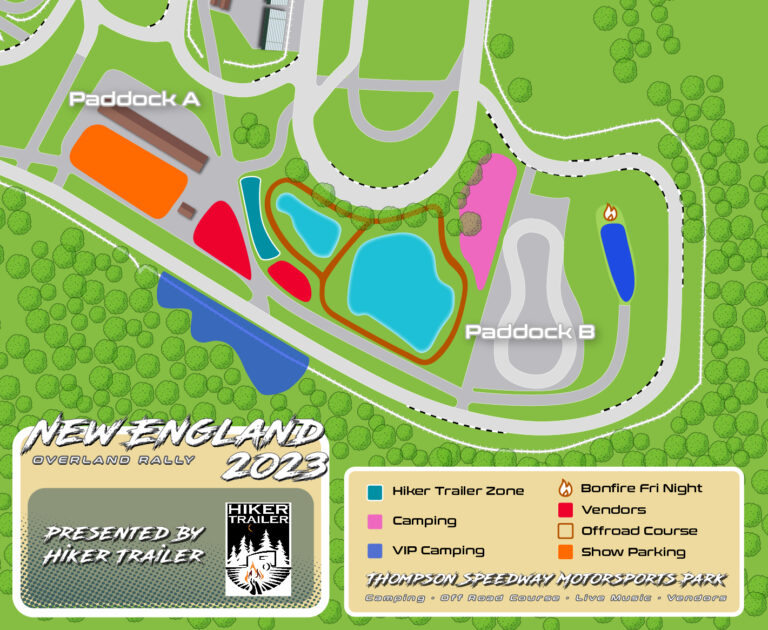 Overlanding is not a new concept but because of recent events, and with more people realizing the value in traveling together to explore the outdoors, it has grown incredibly over the last few years. Many retailers and specialty shops are located out west, however there is a large and diverse Overlanding community here in New England that is enthusiastic and more-than-ready for a local event in the northeast.
From roof top tents to purpose-built expedition rigs, there are no rules when it comes to getting outside and enjoying nature when, how and the way you want. The industry for adventure travel continues to boom and the Overlanding community, with its educated consumer base, has created its own niche space. It's a lifestyle enjoyed by many, and thus has created an entirely new segment for specialty manufacturers and exciting products to hit the market making it more accessible than ever before. As an attendee, you will have access to the latest gear and products to hit the market and will have the opportunity to participate in product demos with the manufacturers.
New England Overland Rally is an event for all ages and attendees will have access to a variety of product demonstrations and educational sessions throughout the two-day event. Live music, a craft beer garden, and a host of food trucks will keep us all entertained. 
We want to see your overland vehicles. Whether you are here for the weekend camping, or simply show up for the day, we'd love to see and highlight your overlander. Some of the best conversations take place in the parking lot or around the campfire, and we get that. It is for that reason we will have designated areas for overlanders of all makes and models for everyone to see.
A purpose-built off-road driving course will be available for those willing to put their skills to the test. Participant ride-alongs (with a professional driver) will be available. Designed by professionals for the pure enjoyment of getting the most out of your vehicle, this purpose-built course will test even the most skilled drivers. The course will mimic real-world overlanding and will help prepare you for what to expect out on the trail. There is no better place to learn important off-roading skills than in a safe and controlled environment. New England Overland Rally will have professional drivers on hand to offer guidance and provide tips when needed.   
Exhibitors and vendors will display, demo and sell the latest products. If you're a specialty manufacturer with focus on adventure travel and the Overlanding community then you will not want to miss this event. To register as a sponsor or vendor please visit the following link.